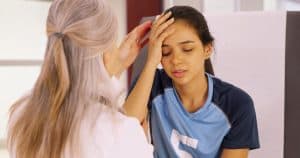 The Centers for Disease Control (CDC) recently developed a new set of guidelines aimed at doctors, parents, and school staff to cooperatively care for children who've suffered a head injury or concussion.
Released in early September, the guidelines provide doctors with the tools they need for the best outcomes for children who've suffered concussions. And, one of these guidelines is using the term "traumatic brain injury" to refer to concussions in order to enforce how serious the condition is.
Children in particular usually suffer concussions from accidents in sports, falls, or vehicle and bike accidents. The CDC reports that more than 800,000 American children seek treatment for mild traumatic brain injury (mTBI) every year.
Dr. Meeryo Choe, associate director for the BrainSPORT Program and a pediatric neurologist at UCLA Mattel Children's Hospital, says, "The new guidelines are based on the most comprehensive review of the science related to pediatric concussions over the past 25 years."
Five key recommendations
The full set of guidelines includes 19 sets of recommendations, but the CDC is highlighting five key "practice-changing" pieces of information:
Do not routinely image pediatric patients to diagnose a mild traumatic brain injury.
Use validated, age-appropriate symptom scales to diagnose a concussion.
Assess for risk factors for prolonged recovery, including history of concussions or other brain injury, severe symptom presentation immediately after the injury, and personal characteristics and family history.
Provide patients and their parents/caregivers with instructions on returning to activity customized to their symptoms.
Counsel patients and their parents/caregivers to return gradually to non-sports activities after no more than two to three days of rest.
"We have heard from healthcare providers that they want and need consistent, current, and evidence-based guidance for diagnosing and managing mTBI. And this guideline can help," said Deb Houry, MD, MPH, director of CDC's National Center for Injury Prevention and Control.
"However, we also designed the guideline so it can help inform efforts aimed at supporting families, sports coaches, and schools—who are all integral to keeping children safe and healthy."
A concussion is a brain injury
Parents, coaches, and school staff should always remember that concussions are indeed mild traumatic brain injuries, and their child should always receive medical attention, even if a "bump on the head" seems minor. A head injury is never minor.
If your child has suffered a blow to the head or neck, talk to your doctor or pediatrician about the new CDC guidelines. Additionally, ask your school and coaches if they train staff on concussion protocol.
The personal injury attorneys at Wagner & Wagner can help when your child has a traumatic brain injury or concussion. We're experienced in fighting to secure compensation when our clients are injured from someone else's negligence. Let us get your family on the path to healing. We serve clients in Chattanooga and Cleveland, TN, in North Georgia, and all surrounding counties. Call us today at 423-799-3532 or complete our contact form to schedule your free consultation.
Related Articles