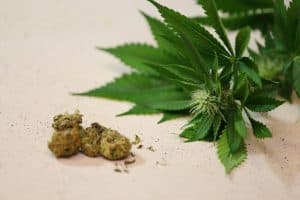 Many marijuana "enthusiasts" are quite familiar with the date April 20, better known by the shorthand 4/20. It's the unofficial holiday popularized by High Times magazine back in the early nineties as a way to celebrate smoking the plant by lighting up in unison at exactly 4:20 pm on April 20 each year. (It's also the name of a popular craft beer.) However, a recent study linked this particular day with an increase in fatal car crashes in the United States. Is this a coincidence or is marijuana to blame?
A study published in  JAMA Internal Medicine analyzed 25 years of data and found that people are 12 percent more likely to die in car accidents on April 20 than the week before and the week after. Specifically, the researchers focused on the number of people killed in car crashes between the hours of 4:20 pm and 11:59 pm on April 20 for 25 years. Then, they compared those numbers with the same period for the week before (April 13) and the week after (April 27).
Surprisingly, the results showed something. Across the data, on April 20, 1369 people were killed in accidents nationwide. In comparison, 2453 people were killed in crashes on April 13 and April 27 combined. That's 7.1 fatal crashes per hour on April 20, versus 6.4 fatal crashes per hour on April 13 and April 27—an overall increase of 12% in fatal accidents on 4/20. In the past, researchers have found similar links with alcohol and driving on Super bowl Sunday.
Risk factors
What factors are at play in this study? Researchers couldn't confirm marijuana use was a contributing factor in these car accidents, as they didn't have access to police data on any drug testing. Additionally, 4/20 events or festivals are usually targeted to younger people, who might have less experience behind the wheel, like teens or college students. They might not understand that drugged driving is just like drunk driving, or might mix marijuana and alcohol at parties and later get on the highway.
Risks can also differ by region. An article in Newsweek pointed out that North Dakota, for example, had a higher risk of fatal accidents on 4/20 than many other states. However, this is actually due to North Dakota's low population. Even a small rise in accidents can skew the numbers to make them look higher than normal.
Another surprising finding was that in several states with legalized marijuana, the fatal accident rate on April 20 was actually lower than the control days of April 13 and 27. The reason, researchers believe, is because since those states likely have a higher level of marijuana use to begin with, there would be no surge in use on any particular day.
Smoking pot and driving is both dangerous and illegal
Driving while high is considered to be driving while impaired—just like drunk driving. Driving drugged affects someone's ability to drive by impacting reaction time, attention, coordination, decision-making skills, and judgement. The ability to react quickly to traffic conditions slows down, raising the risk for serious or even fatal accidents, and putting everyone on the road in danger.
At Wagner & Wagner Attorneys at Law, our experienced Chattanooga car crash injury lawyers fight to secure compensation for clients injured in car accidents caused by the negligence of another driver. If you have suffered a serious injury in a car crash, call our office today at 423-799-3532 or complete our contact form to schedule your free consultation. We serve clients in Chattanooga and Cleveland, TN, in North Georgia, and all surrounding counties.
Related Articles