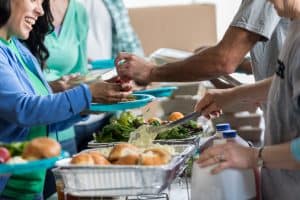 At Wagner & Wagner, it is our pleasure and our duty to help support our community. That is why we support many local non-profit and charitable organizations here in Chattanooga. One of the most important organizations in our home town is the Chattanooga Community Kitchen, which helps provide those in need with good food, clothing, and other services throughout the year.
This year, at the 28th Annual Christmas Celebration, partner Richard Wagner and his wife helped the Chattanooga Community Kitchen raise more than $19,000 for their programs. These donations will help give shelter and food, as well as basic life-giving services, to the homeless throughout Chattanooga.
Helping families in need, every day of the year
The Chattanooga Community Kitchen opened its doors in 1982. Originally, the organization was comprised of seven local churches, who banded together to help serve the needs of the homeless in the city. Since then, the group has expanded – not only in space, but in services. The Chattanooga Community Kitchen offers:
Food
Clothing
Showers
Laundry services
Phone services
Mail services
Outreach services
Employment preparation (including resume writing, searching for jobs, and interview preparation)
Shelters
Transitional housing
Healthcare
Enrollment services for VA benefits, food stamps and Social Security
What started as a food bank became one of the most comprehensive centers for helping those in need get back up on their feet. "Through all of the services [the Chattanooga Community Kitchen offers], we seek to satisfy the spiritual and physical hunger of the homeless and needy of Chattanooga. There are no fees or requirements for receiving our services. Instead, we provide them out of compassion and love for mankind as we strive to fill gaps in the lives of needy men, women and children."
Wagner & Wagner is a proud supporter of the Chattanooga Community Kitchen. We believe in the work they do, and we are happy that we have been able to help them continue that work. When the community is strong, we all benefit.
If you would like to get involved with the Chattanooga Community Kitchen, either as a volunteer or through a donation, you can find information here:
You can read more about their programs here.
Wagner & Wagner is Chattanooga's oldest plaintiff's law firm. For more than 100 years, we have represented the needs of individuals and families here in Chattanooga and in Cleveland, Tennessee, and throughout Northern Georgia. To learn more about our services, please call 423-799-3532 or fill out our contact form.