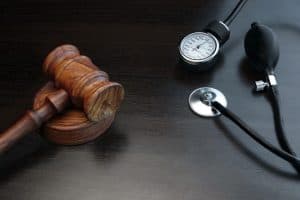 The Tennessee State Supreme Court came down on the side of justice, with its most recent decision not to overturn the law regarding what can be submitted for medical expenses in a personal injury case. This is truly excellent news, because it helps people who have been seriously injured, and who are facing high medical expenses as a result. The Chattanoogan reports "The Court held that Tennessee law continues to allow plaintiffs to use full, undiscounted medical bills to prove their medical expenses instead of the discounted amounts paid by insurance companies."
Some background on the submission of medical expenses in a court case
Before we talk about the case that led to this particular decision, you will need to know the background behind it. A few years ago, there was a case: West v. Shelby County Healthcare Corporation. In that case, a hospital put a lien on a patient's lawsuit award because it claimed that the medical bills had not been paid in full. The lien was for the full amount of the medical bills.
However, insurance companies never pay the full cost of medical treatment; they pay at a discounted rate. For example, if you walk into the local emergency room to get stitches in your hand, and you don't have insurance, let's say the total cost to you is $1000. But if you do have insurance, the "cost" of that procedure might only be, sat, $750. This is because hospitals across the country make deals with insurance providers wherein those providers will have to pay less money for treatments.
It is similar, in a way, to joining a place like Costco: you pay a small annual fee, and then you can get your paper towels or your cans of beans in bulk, and therefore at a discounted rate. Insurance providers have hundreds of thousands of members, so hospitals and healthcare facilities give them a discounted rate.
So, when the hospital wanted the entire cost for the medical expenses, the court in the West case said "that the hospital's lien was limited to the discounted amounts paid by the patients' insurance companies."
How the Tennessee Supreme Court's decision played out
A woman named Jean Dedmon was in a car crash, and she went to court to seek damages. Attached to her complaint were copies of her medical bills in their entirety. While the case was going on, the West decision came out – and the defense attorneys in Mrs. Dedmon's case immediately cited it as precedent, saying that Mrs. Dedmon should not be allowed to submit the entirety of her medical bills, because her insurance company will pay a discounted rate for her care. As the piece in The Chattanoogan puts it, "personal injury plaintiffs who have insurance can no longer use the full medical bills to prove their medical expenses. The trial court in Dedmon agreed. Based on West, it limited the plaintiffs' proof on medical expenses to the discounted payments the hospital and doctors had contractually agreed to accept from Mrs. Dedmon's insurance company."
The Dedmons appealed the decision and won, because the Tennessee Court of Appeals said personal injury cases were different, and that any plaintiff (in this case, Mrs. Dedmon) should be able to submit bills for medical expenses in their entirety. The defense disagreed, and took the case to the Supreme Court of Tennessee.
And today, the Supreme Court of Tennessee side with the plaintiffs. Not only can plaintiffs in personal injury cases submit the bills for their medical expenses in their entirety, "The rule also prevents defendants from telling juries about plaintiffs' insurance and other such benefits because it might cause juries to think the plaintiffs have already been paid for their injuries."
This is a very important decision for personal injury victims. As "tort reform" keeps creeping into legislation throughout the country, and as we see more and more victims' rights be pushed aside, today's decision is a crucial win on behalf of our clients, and for families everywhere in Tennessee.
At Wagner & Wagner Attorneys at Law, we are proud to fight on behalf of the injured, and to help our clients secure a better future for their loved ones and themselves. If you have been hurt because of someone else's negligence, please call 423-799-3532 or fill our contact form to schedule a free consultation at our office in Chattanooga. We take cases on a contingency fee basis, and represent clients in North Georgia and throughout Tennessee.
Related Articles