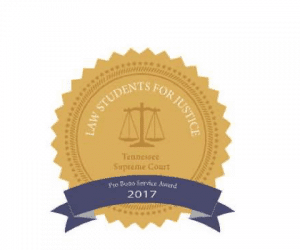 Wagner & Wagner Attorneys at Law is a family law firm. Each of us has been called to help uphold the laws and rights of Tennessee and of this country, and to protect those who have been harmed or injured in some way. We are pleased to announce that this family tradition continues with Patrick Wagner, who has been honored as a Law Student for Justice.
The Tennessee Supreme Court has selected Patrick for this honor in recognition of his pro bono service during his time at the University of Memphis Cecil C. Humphreys School of Law. In order to be selected, a student must have completed at least 50 hours of pro bono work (as per the Rules of Professional Responsibility). All honorees are given a certificate signed by all the members of the Court, and are then invited to attend an event to recognize their hard work.
Helping the community at every step
Pro bono publico means "for the public good." Most people see the words "pro bono" and assume it means "free," but that is not the entire story. Yes, pro bono work is done with no fees, and no expectations of fees, attached to it. However, the real goal of pro bono work is to provide a valuable service that might otherwise be unavailable to people. It not only allows attorneys to explore other areas of practice, but it also allows us to work hand-in-hand with the very community we serve. For a firm like ours, which has been in the Chattanooga community since 1945, this type of work helps us meet new generations of families, contribute to the overall health of the community, and to ensure that everyone has access to competent, quality legal services when they need them.
Had Patrick wanted to be a doctor, or a teacher, or a basketball player – or anything other than a lawyer – we would have supported those efforts, because we know he would have striven to be the best he could be. He chose the law, like so many of his family members before him, and has worked hard to represent the best of what the law can be: dedicated, committed to justice, and ready to serve the people of his community. Now that he has passed the Bar Exam, he can take his place here at Wagner & Wagner Attorneys at Law – and we could not be prouder.
Congratulations on your honor, Patrick Wagner. You certainly deserve it.