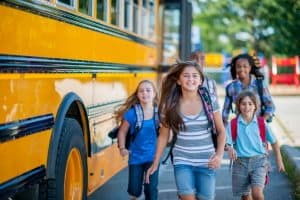 Last year, Tennessee made national news when five children were killed in a tragic school bus accident. With a new school year starting, the roadways of Tennessee will soon be filled with school buses. Keeping students safe is a collective responsibility, shared by the school district, bus operators, and other drivers. If any one of these parties acts in a negligent manner, they put innocent students at risk for serious harm.
Between 2003 and 2012, more than 348,000 fatal motor vehicle traffic crashes occurred on highways across America, according to the National Highway Traffic Safety Administration. Of those, 1,222 were classified as school-transportation-related, resulting in the fatality of 1,353 people. This equates to an average of 135 fatalities per year. Of those killed, about eight percent were occupants of school transportation vehicles, while 21% of the fatalities were non-occupants, such as pedestrians and bicyclists. The remaining 71% of fatalities were occupants of other vehicles involved in school bus crashes.
Common causes of school bus accidents
School bus accidents and injuries can result from a variety of circumstances. Some of the most common causes include:
Bus operator negligence
Dangerous roadway conditions
School bus vehicle defects or improper maintenance
Negligent driving by other vehicle operators on the roadway
Inadequate passenger protection mechanisms
Several of these situations involve negligence on the part of the school district. Administrators must take steps to hire adequately experienced bus operators and ensure proper training. They should also maintain guidelines to promote safe operation of the vehicle. Administrators are also responsible for ensuring the proper maintenance of school buses, through regular inspections and suitable repairs when problems arise.
When school districts fail to meet the duty of school bus safety they owe to their students, they may be held financially responsible for the resulting student injuries and harms. Holding a school district legally accountable can be a challenging task. As a government entity, the school district is covered by state laws that impose restrictions and deadlines on individuals seeking to bring legal actions against them. Therefore, it is important to secure representation from skilled Chattanooga personal injury attorneys who have the knowledge and experience to properly bring an action against a negligent school district.
Tennessee traffic laws promoting school bus safety
The traffic laws of Tennessee place specific requirements on drivers operating vehicles in the vicinity of school buses. Vehicles cannot pass buses which are stopped on the side of the roadway to pick up or drop off students. Drivers should also maintain a proper speed within neighborhood and school zones, while also exercising reasonable precautions. When vehicle operators cause harm to school bus passengers, they may be held liable for their negligent actions and the traffic accidents they cause.
School buses carry our most precious cargo each and every day. At Wagner & Wagner Attorneys at Law, our experienced Chattanooga vehicle accident lawyers diligently fight to secure compensation for students injured in school bus accidents. If your family has been impacted by a school bus injury, call our office today at 423-799-3532 or complete our contact form to schedule a consultation. We serve clients in Chattanooga and Cleveland, TN, in North Georgia, and all the surrounding counties.